Jacques Villeneuve, F1 world champion and Indycar champion as well as Indy 500 winner, has founded FEED Racing with Patrick Lemarié. He looks back on the first year of what has been created to feed new talents into the sport.
What are your feelings on this first edition of FEED Racing?
I am very satisfied with the whole process. From the first stages, in April, to the final, mid-November. Satisfied with the general level, the atmosphere, the organization, and more than anything else with what we have already brought to young drivers. We had young people who clearly either could not switch to single-seater, or could not hope for anything other than to carry on in karting, or did not even imagine doing competition. We had 10 nationalities of drivers, of all ages between 15 and 21, from any experience level.
What is your greatest personal satisfaction?
We knew we could do a great job. I know Patrick (Lemarié) for years, and I have no doubt about our concept. But it is true that I especially retain the human element in that first year. There was a great atmosphere, a great complicity, both with the young drivers and with the parents. I had a lot of fun getting involved personally and, finally, I was on the spot almost all the time. We worked in an old way, without telemetry, and everyone learned together, thought together. The drivers were listening.
"We really had very different kinds of drivers."
Which drivers impressed you the most?
We really had very different kinds of drivers. By the way, the top four are: a 21-year-old kart world champion who had never raced in a single-seater (Marijn Kremers); a kart driver who hardly raced in 2019 and whose family has heritage in motor sport (Etienne Chéli); an apprentice butcher from Marseille who had only done rental karting (Alexis Giroud); or a kid who only had a little competition kart (Dorian Cazals). At first, Dorian was not in the game, but then, as the days went by, he made progress. He passed through quarter-finals, semi-final, and he went to the final with an overall 4th place. We gave time to the students.
What about the winner, Marijn Kremers?
He is really special. He achieved incredible lap times in the final. Since winning at FEED, he has started testing with Carlin for the British F4, and he impressed everyone.
"Even teams and manufacturers do not know where the true pure talents are."
What adjustments are you planning in 2020, for the second year of FEED Racing?
We always make adjustments. Because we are seeking perfect equity at all times, we constantly adapt. Around weather conditions in particular. For example, in the final, instead of letting them compete one by one — which would have made no sense fairness-wise — we decided, because of the changing weather conditions, to turn the final into a duel knockout. We will always make all the necessary adjustments so that both talent and equity prevail.
Are you still convinced that FEED Racing is the right solution to the motorsport modern problems?
An antidote, in a way, yes! We want to open the world of motorsport's eyes. We want to turn things around. Money has always been part of racing, but there was a good balance with talent. Nowadays, money rules everything. Even teams and manufacturers do not know where the true pure talents are. Karting has fallen into a spiral where it's all about keeping young people and their comfortable budgets as long as possible. But talent remains paramount, for progress, results and survival. A team relying three years on only paying drivers moves backward. FEED Racing wants to reveal the talents and feed the motorsport of tomorrow.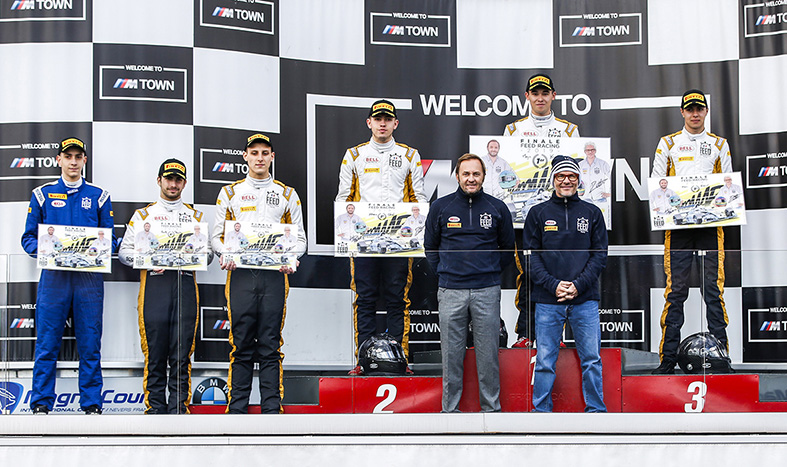 @Jean Michel Le Meur / DPPI