Still with the aim of democratizing motorsport, of giving a chance to the talent and of finding tomorrow's champions, the Nièvre Departmental Council is organizing, in partnership with FEED Racing, a huge detection operation through local colleges. Out of 30 colleges, 21 have agreed to take part in this unique adventure. A popularity that exceeded expectations.
A maximum of 20 students per college – in third year of secondary school and on a voluntary basis – were invited to the karting track at Magny-Cours. In total, 413 youngsters, including around 30% of girls, were able to taste karting for the first time and to go against the clock. The first phase of the selection took place in groups of 10 students maximum, with 10 minutes on the track. In each college, the fastest student has been selected for the second round.
At the end of February-beginning of March, the 21 selected will face off a new driving day. The six drivers who have achieved the best average over their six best laps will be qualified for the next stage. A rule identical to the one used inside the FEED Racing school.
Finally, next March, the final will take place between the last six youngsters. The winner (rules under validation) will earn their place in the FEED Racing school which will start on April 11, 12 and 13, and will be able to compete for a seat in British F4 within the CARLIN team. That's not all, the second and third in the Karting Challenge will be rewarded with a day of running offered at FEED Racing programme, driving an F4, on April 11.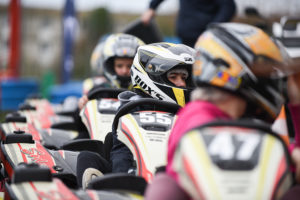 "Finding, inside secondary school, a talent under the radar."
Jacques Villeneuve, FEED Racing co-founder :
« To see such involvement of the department and the public authorities in our pilot detection project is fantastic. Our ambition is to democratize access to motorsport and find a champion who doesn't know. Choosing from a wide spectrum of colleges will allow young people who never had the idea or the means to try the adventure.»
"To make young people dream"
Patrick Lemarié, FEED Racing co-founder :
« To make young people dream is the essence of our involvement in FEED Racing. I saw by myself that the secondary school students taking part really felt pleasure discovering karting. I was really impatient to see more than 400 students tasting karting, discovering Magny-Cours and approaching motorsport so close. They really got into it and did their best seriously. There were a lot of girls present, and that was a big satisfaction too. Among the 21 young people who qualified for the next round, I have already noted some great predispositions despite the lack of experience. »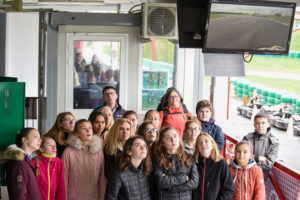 CHALLENGE KARTING IN NUMBERS
21 colleges in the Nièvre department
413 youngsters in third year of secondary school
30% of girls
21 youngsters reached the next round
Pictures @Johan Boulet