The Grand Final of FEED Racing 2020/2021 held all its promises on the F1 Circuit of Nevers Magny-Cours. In the rain and on a drying track, Dutchman Robert De Haan became the second winner of the Volant created by Patrick Lemarié and Jacques Villeneuve… by only 2 thousandths of a second.
At the end of the three best laps of their series – so over 13.2 km – De Haan was ahead of Frenchman Elliott Vayron by only 2 thousandths. An unbelievable scenario. The day had started with the Battles between the six finalists, with the three winners (Scibilia-De Haan-Peugeot) moving on to the semi-finals. The exceptional Jury made of Margot Laffite, Julien Fébreau and Serge Saulnier had the difficult task of drafting one of the losers of the Battle, and they decided to "save" Elliott Vayron. The choice paid off as Vayron reached the Grand Final and came close to the victory by 2 thousandths of a second.
Robert De Haan, only 14 years old, succeeds his compatriot Marijn Kremers in the list of the FEED Racing winners.
He triumphed over 70 students over two years and won all his duels in the final until the last one against Vayron.
De Haan spent a total of 10 track days with FEED Racing in the F4, accompanied by Jacques Villeneuve and Patrick Lemarié, as well as FEED Racing coaches, Xavier Pompidou and Julien Poncelet.
He thus wins a full season of Formula 4 in 2022. A great achievement for the karting and Ginetta driver.
See you soon for the opening of the 2022 training sessions reservations with the ultimate goal to win a seat in F4 in 2023.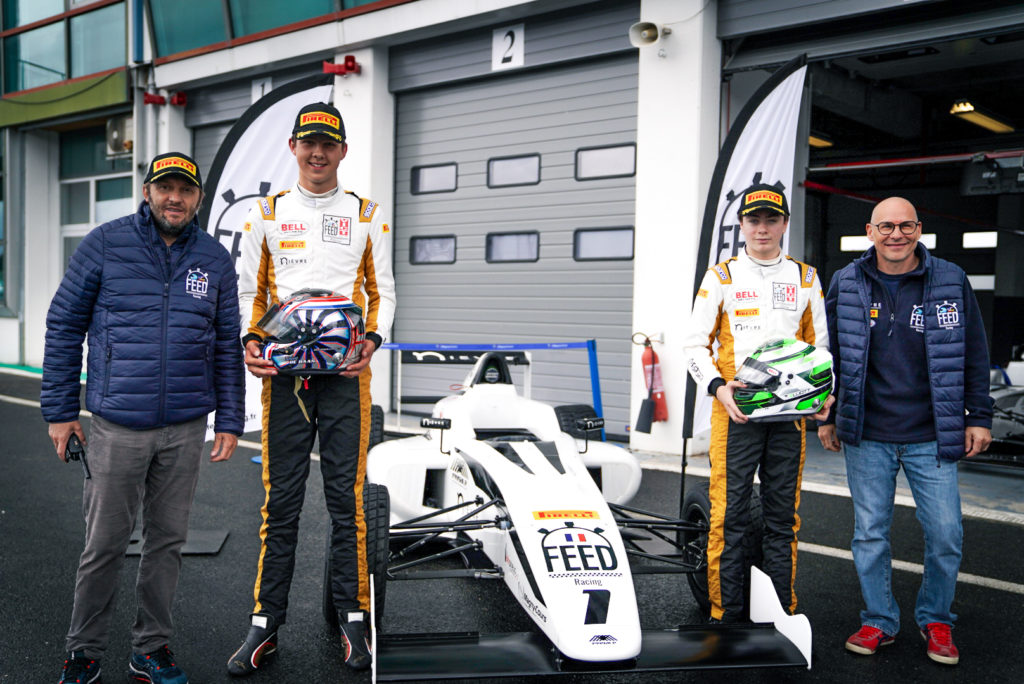 2020- 2021 FEED Racing FINAL STANDINGS
1st DE HAAN ROBERT NED
2nd VAYRON Elliott FRA
3rd SCIBILIA Thomas FRA
4th PEUGEOT Enzo FRA
5th CAZAUBON Thibault FRA
6th MOREAU Nicolas FRA
FINAL
Average of the three best laps
1. (5) DE HAAN Robert NED 1:54.446
2. (7) VAYRON Elliott FRA 1:54.448
SEMIFINAL A
Average of the three best laps
1. (7) VAYRON Elliott (drafted by the jury) FRA 1:58.664
2. (2) SCIBILIA Thomas FRA 1:58.975
SEMIFINAL B
Average of the three best laps
1. (5) DE HAAN Robert NED 1:57.879
2. (4) PEUGEOT Enzo FRA 1:58.236
BATTLE 1
Average of the three best laps
1. (2) SCIBILIA Thomas FRA 2:03.119
2. (6) MOREAU Nicolas FRA 2:05.079
BATTLE 2
Average of the three best laps
1. (5) DE HAAN Robert NED 2:01.734
2. (1) CAZAUBON Thibault FRA 2:02.706
BATTLE 3
Average of the three best laps
1. (4) PEUGEOT Enzo FRA 2:01.442
2. (7) VAYRON Elliott FRA 2:01.914