On September 12-13 the 2020 NASCAR Whelen Euro Series season will finally kick off with a bang at the Autodromo di Vallelunga in Rome, Italy. The Italian track will host a NASCAR GP for the first time with four races – two of the EuroNASCAR PRO and two of the EuroNASCAR 2 championship – and an action-packed two-day program.
25 cars and 45 drivers figure in the Delphix / NSR American Festival of Rome entry list. Italy will be the most represented country with 15 drivers.
Among them a FEED Vict Racing team, with FEED Racing cofounders Jacques Villeneuve and Patrick Lemarié on the grid. They will drive the Chevrolet Camaro #5 & #6, plus the young Belgian driver Simon Pilate, semi-finalist of FEED Racing in 2019.
| | | | | | | | |
| --- | --- | --- | --- | --- | --- | --- | --- |
| 5 | | Villeneuve Jacques | CAN | | Feed Vict Racing | ITA | Chevrolet Camaro |
| 6 | | Lemarie Patrick | FRA | | Feed Vict Racing | ITA | Chevrolet Camaro |
| | | | | | | |
| --- | --- | --- | --- | --- | --- | --- |
| 6 | Pilate Simon | BEL | Rookie | Feed Vict Racing | ITA | Chevrolet Camaro |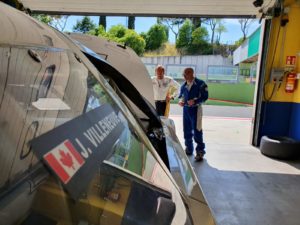 SCHEDULE
THURSDAY, SEPTEMBER 10

08:00
All
PADDOCK OPENS for installation of teams in pit-boxes
10:00 – 16:00
All
OPEN TEST DAY (360 min)

FRIDAY, SEPTEMBER 11

09:00 – 11:00
EN PRO
OPEN TEST EuroNASCAR PRO (120 Min)
11:35 – 13:35
EN 2
OPEN TEST EuroNASCAR 2 (120 Min)
14:30 – 15:30
EN PRO
OPEN TEST EuroNASCAR PRO (60 Min)
16:30 – 17:30
EN 2
OPEN TEST EuroNASCAR 2 (60 Min)

SATURDAY, SEPTEMBER 12

08:30 – 09:15
EN 2
EuroNASCAR 2 PRACTICE (45 min)
10:00 – 10:30
EN 2
EuroNASCAR 2 QUALIFYING (30 min)
12:10
EN 2
National anthems (USA followed by Italy)
12:19
EN 2
"Drivers Start your engines" by race Grand Marshal
12:20 – 12:55
EN 2
EuroNASCAR 2 RACE 1 (15 LAPS – 61.50 KM) – Green Flag 1 Pace lap
17:04
EN 2
"Drivers Start your engines" by race Grand Marshal
17:05 – 17:40
EN 2
EuroNASCAR 2 RACE 2 (15 LAPS – 61.50 KM) – Green Flag 1 Pace lap
17:40 – 17:55
EN 2
Podium Ceremony

SUNDAY, SEPTEMBER 13

08:30 – 09:15
EN PRO
EuroNASCAR PRO PRACTICE (45 min)
09:50 – 10:20
EN PRO
EuroNASCAR PRO QUALIFYING (30 min)
12:00
EN PRO
National anthems (USA followed by Italy) (Drivers stay in their car)
12:04
EN PRO
"Drivers Start your engines" by race Grand Marshal
11:55 – 12:35
EN PRO
EuroNASCAR PRO RACE 1 (18 LAPS – 73.80 KM) – Green Flag 1 Pace lap
12:45 – 13:00
EN PRO
Podium Ceremony
15:49
EN PRO
"Drivers Start your engines" by race Grand Marshal
15:40 – 16:20
EN PRO
EuroNASCAR PRO RACE 2 (18 LAPS – 73.80 KM) – Green Flag 1 Pace lap
16:30 – 16:45
EN PRO
Podium Ceremony
WHERE TO WATCH
https://www.youtube.com/channel/UCBC6q0W_XvlektRSbjJ4mgg
PREVIEW